Trailer Video
An attempt at capturing the 'special'.
Full Length Video
An attempt at capturing more of the complete player.

Opponents in Videos
Footage is taken from matches vs top tier opponents in top tier competitions including:
vs FC Barcelona (La Masia residents) at Mediterranean International Cup, Barcelona, Spain.

vs Pateadores CM (fully funded team) at Surf Cup semi-final.

vs San Diego Soccer Club (the top team in San Diego) at National Cup semi-final.

vs FC Golden State Academy (fully funded academy team) at National Cup final.

vs FC Dallas at Surf Cup.

vs Ballistic (top Cal North team) at Surf Cup.

playing up vs U13 United FC (top ten U13 squad) at Real So Cal tournament.
Story
John Kenneth Hilton, nicknamed Xuxuh (pronounced shu-shu), is an 11 year old American footballer, from Long Beach, California, who has been playing since the age of 5 with a rare combination of speed and power.
Born to parents Kenneth Hilton, an American, and Dina Conceicao, a Brazilian, from Salvador, Brazil, Xuxuh displays the athleticism of an Western athlete with the skill and ball control of a Samba boy from South America.
Whether it's on the soccer pitches of southern California or in the classroom, Xuxuh has a drive to compete. At the age of 10, he was challenged to win an Xbox by juggling a ball for 30 minutes straight without dropping it. The next morning he recorded his all time high of 2,845 juggles.
His commitment and dedication to training has earned him and his team:
1 National Cup championship
3 State Cup championships
3 League Cup championships
2 Surf Cup championships
If you asked Xuxuh what his story is, his answer would be:
"I'm going to write my own story by putting in the work to be the best."
National Team
In April 2013, Xuxuh, as an 11 year old, was called into the U14 National Team Camp by Hugo Perez.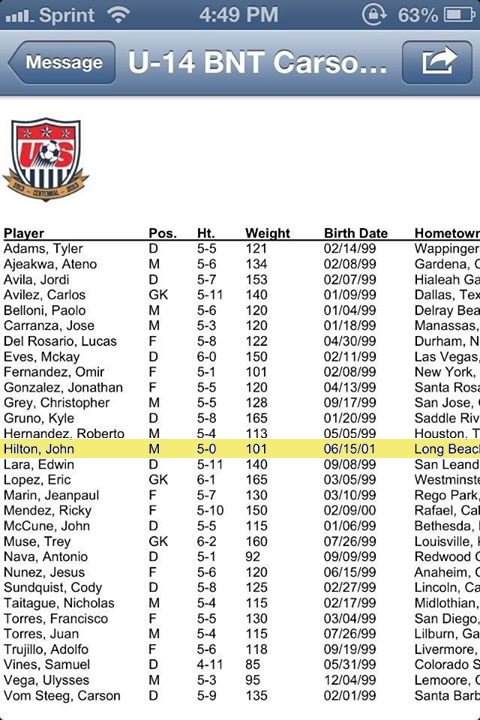 Baseline Training Schedule
Started juggling Monday through Friday, 30 minutes a day at the age of 6 1/2.
Started club soccer at age 8, in 2009.
Started speed and agility training in 2010 at the age of 9.